Reliable and Woven: The Secret Behind Cheap Price Woven Foil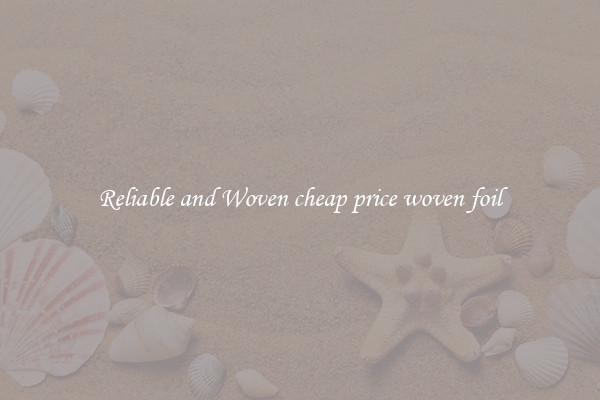 When it comes to finding reliable and affordable packaging solutions, woven foil has become a popular choice for both individuals and businesses alike. This versatile material offers durability, flexibility, and strength, making it ideal for a wide range of applications.
One of the key advantages of woven foil is its reliability. The woven structure of the foil provides it with added strength and tear resistance, making it an excellent choice for packaging sensitive and delicate items. The metallic foil layer provides a barrier against moisture, dust, and other contaminants, ensuring that the contents remain well-protected during transportation or storage.
But why is woven foil often available at such a low price point? The secret lies in the manufacturing process. Woven foil is produced using a combination of specialized machinery and cost-effective materials, making it a more affordable option compared to other packaging alternatives.
The manufacturing of woven foil involves weaving plastic strands together to form the base fabric. This woven foundation is then laminated with a thin layer of metallic foil, typically aluminum, to create the final product. The use of plastic in the manufacturing process allows for a reduction in material costs, which ultimately translates into a cheaper price point for consumers.
Despite its low cost, woven foil does not compromise on quality. The combination of plastic and metallic foil ensures that it maintains its integrity even under harsh conditions, such as extreme temperatures or rough handling. The tear resistance provided by the woven structure adds an additional layer of protection, making it suitable for a variety of purposes.
Another reason for woven foil's affordability is its versatility. It can be customized to meet specific requirements, such as size, shape, and printing options. This flexibility allows manufacturers to produce woven foil in large quantities, reducing production costs and making it accessible to a wider customer base.
The affordability of woven foil does not mean that it lacks aesthetic appeal. With advancements in printing technology, it is now possible to apply vibrant, eye-catching designs to the foil surface. This makes it an attractive option for product packaging, as it allows brands to showcase their logo or create visually appealing designs that grab customers' attention.
In conclusion, woven foil is a reliable and affordable packaging solution that offers strength, durability, and versatility. Its low price point is attributed to the cost-effective combination of plastic and metallic foil during the manufacturing process. Despite its affordability, woven foil does not compromise on quality, ensuring that items are well-protected during transit or storage. So, the next time you seek a reliable and cost-effective packaging solution, consider woven foil as your ideal choice.